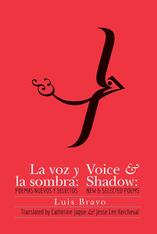 By Luis Bravo, Lavender Ink Press, 2020.
Translated by Catherine Jagoe and Jesse Lee Kercheval
​
This completely bilingual edition makes available in both Spanish and English a wide selection of poems by the essential Uruguayan poet Luis Bravo. The author of twelve books of poetry and multimedia poetry performances, Bravo is a kingpin of Uruguay's "Generation of '80," known for its iconoclastic search to reinvent what it saw as hidebound and defunct cultural models. Bravo's work and cultural experiments are influenced by jazz and rock, the Beats, psychedelia and surrealism. These poems, beautifully translated by Catherine Jagoe and Jesse Lee Kercheval, buzz with sound and and explode with image, but are, at the same time. deeply human, exploring time, memory, dreams, death, and desire in ways that will forever change the way you see the world.